Epoxy Flooring in Wolverhampton
Shirley Industrial Painters have been providing customers in Wolverhampton with epoxy flooring to their sites throughout the town for many years. With projects completed at local garages, workshops, factories and other areas where durable flooring is needed, we have a wealth of experience in using these floor coatings.
Hard-wearing and highly resistant to heavy impact, abrasion and chemical damage, epoxy floor coatings are ideal for industrial use, so once in position your floor should last for many years to come. In addition, these floors are easy to clean, meaning that you can quickly clear up any spillages with little hassle.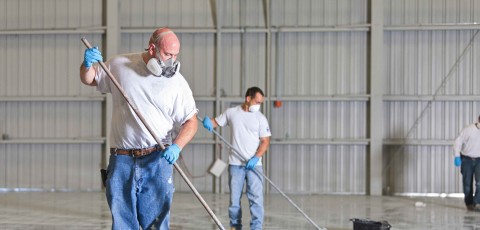 Non-Slip Epoxy Floor Coatings by Shirley Industrial Painters
In areas where forklifts are at use, a non-slip coating can be added to your floor to create an anti-skid effect, which will help to minimise the chances of an accident and help you to maintain a safer site.
The quality of our epoxy flooring is second-to-none, and because we offer these floors at highly competitive prices, you can feel confident that you'll get great value for money when you come to Shirley Industrial Painters for a new epoxy floor.
If your premises in Wolverhampton require a tougher, more durable flooring surface, contact us to find out more about how we could help.
int(67)