Shot Blasting in Northampton
If a paint or coating is applied to an untreated surface, the result can be uneven, rough and patchy. That's why, here at Shirley Industrial Painters, we offer shot blasting as a preparation treatment ready for coating.
The shot blast cleaning process removes any dirt and debris such as old paint from a surface, leaving it smooth and polished ready for the next stage. It's particularly useful when working with metal structures, to effectively remove and prevent rust and corrosion.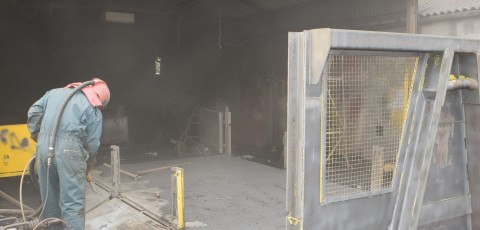 We use all of the latest equipment and our technicians are fully trained. What's more, as CITB members, we are always up to date on the latest industry regulations and legislation, so you can be sure that the process will be carried out safely at your site in Northampton.
Impressive Results from Shirley Industrial Painters
We have worked with a wide range of customers throughout the Northampton area, and have the skills and equipment to complete shot blasting treatment on a wide variety of different surfaces. From steel to wood, sand and concrete, no project is too large or complex for our team to embark on, and we also utilise coatings from the leading manufacturers for the very best end results.
Why Choose Us?
ISO 9001-2000 Accredited
All our Operatives are trained in Lead Awareness
All our Operatives are trained in Confined Spaces
We Use Recycled Abrasives