Shot Blasting in Wolverhampton
To prepare a surface for painting, we can carry out shot blasting to ensure that a smooth, seamless finish can be achieved. Over the years, we've carried out this treatment at various sites across Wolverhampton, working with a wide range of clients to deliver the high-quality service they require at a competitive price.
Painting or coating an untreated surface can lead to an uneven or rough result but shot blasting will remove any dirt and debris, including old paint, leaving the surface ready for the next stage. This technique is particularly effective on metal structures which have rusted or corroded. Thanks to shot blasting, we can restore any surface, providing you with another opportunity to completely redesign or redecorate your Wolverhampton business.
With the latest equipment at our disposal and a team of highly trained technicians, you can enjoy the peace of mind that your site is in safe hands with Shirley Industrial Painters.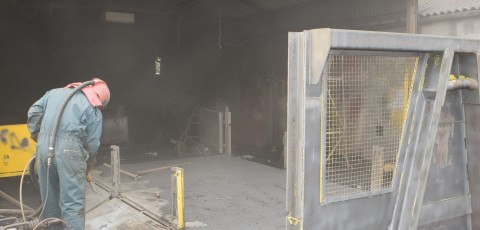 A Fantastic Finish from Shirley Industrial Painters
Our expertise in shot blasting allows us to achieve an impressive result in every project we undertake, and whatever your requirements, we'll be able to tailor our service to match. No job is too big or too small for our team at Shirley Industrial Painters, so contact us today to start your enquiry and arrange for us to visit your site in Wolverhampton. Visit our gallery to see just a few examples of our shot blasting applications.
Cleaning Any Surface Required
Using the precise measurement of pressure combined with the correct shot blasting application, we can blast away any damage or paintwork clean from a range of surfaces such as wood, brick, steel and concrete without harming or damaging the structure of the material.
Preparing work often includes the monitoring and provision of dust extraction and dust containment equipment to ensure minimal damage is inflicted upon the environment, your business and the area surrounding your Wolverhampton business. This leaves us us with the ideal surface ready for application of other protective coatings or paints to be applied.
Using Supplies From Industry Leading Manufacturers
We source only the highest quality coatings from leading manufacturers such as Hempel Coatings, Protega Coatings, Leigh's Paints and International for any clients based in Wolverhampton. Even architecturally specified materials can be acquired upon request, simply let us know and we'll get the required materials. If you have any questions about shot blasting then simply fill out the contact form shown or call us on 03333 660 408 and we'll be happy to help.
Why Choose Us?
ISO 9001-2000 Accredited
All our Operatives are trained in Lead Awareness
All our Operatives are trained in Confined Spaces
We Use Recycled Abrasives