Here at Shirley Industrial Painters, we can provide a range of commercial decorating and painting services throughout Northampton. We use only the highest quality of finishes to all types of commercial buildings, from retail shops and offices to warehouses and industrial manufacturing buildings.
We'll use our wealth of knowledge and years of acquired skill to provide the perfect finish to your Northampton business. Using only the finest modern finishes, we can provide a modern and durable coating to any material with maximum impact, tailoring our services to meet your specific requirements.
With extensive experience in the field of painting and decorating, we are confident of delivering a top quality service every single time. Whether you require protective coating on your walls or epoxy flooring, our team of painters and decorators in Northampton will be able to resolve any issues in a timely and professional manner. We also offer a shot blasting service to prepare any walls or surfaces for protective coatings and subsequent decorating.
Here at Shirley Industrial Painters, we put ourselves in the position of the customer and strive to deliver a service that we would be happy with, and we achieve this every single time. But don't just take our word for it, head over to our testimonials page to see what some of our satisfied customers have had to say about us. You can also check out our gallery to see the quality of our commercial decorating work first hand.
We pride ourselves on being industry leaders for commercial decorating in Northampton and the Midlands, so if you are in need of our services, you know you will be receiving a service which no other painting and decorating company can deliver.
To speak to one of our advisors about the possibility of commercial decorating, call us on 03333 660 408 to speak to us, or get in touch through our digital messaging service. No matter where you are in Northampton, we will be able to get one of our painters and decorators out to you as soon as possible.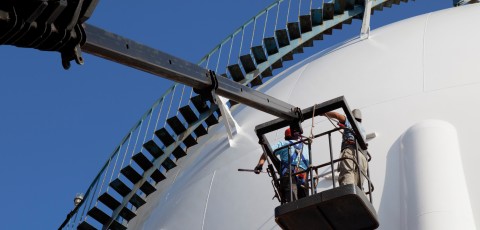 Using High Quality Materials & Techniques
We source only the highest quality materials on the market from our trusted sources such as PPG, Crown, ICI and many more, providing only the highest performance paints and coatings.
No matter what colour you choose, we can deliver any colour desired from the most popular paint colour systems in the industry such as Pantone, NCS, RAL, BS381C and BS4800.
We offer a number of other services from commercial decorating such as:
Sign writing using vinyls, hand painting and stencils

Traditional painting techniques including staining, graining, lime washing, marbling and rag rolling

Hanging wide vinyl coverings from manufacturers such as Dixon Turner and Muraspec
Why Choose Shirley Industrial Painters?
With over 45 years in the business, we have acquired a wealth of knowledge and experience delivering commercial decorating projects to businesses throughout Northampton. We're a third-generation family run business based in the East Midlands with an extensive team of experienced tradesmen, who deliver perfect results each and every time. You can be guaranteed your project is in safe hands as we're fully accredited by all the relevant industry bodies.
Cost Effective and Delivered On Time
Our highly skilled workforce can work to your desired timetable, ensuring minimal disruption to your company, so you can continue to trade without losing potential business. You can put your trust in Shirley Industrial Painters to deliver quick and efficient commercial decorating in Northampton so you don't go over budget, offering great value for money.
Call us today on 0333 660 408 to see how commercial decorating can help rebrand and breathe life into your Northampton business.
Why Choose Us?
Over 45 years experience
The wealth of experience held by our time served decorators
Commercial Decorating in Northampton