Epoxy Flooring in Birmingham & Nationwide
At Shirley Industrial Painters we pride ourselves on being able to offer the correct flooring solution for your specific budget and timescale. No matter what the surface requirements or service conditions of the working environment, we pride ourselves on delivering the right epoxy flooring at the right price.
We are able to offer a range of solutions, including products from many of the industry's major suppliers such as Flowcrete, Hempel, Reepol and SIKA to name just a few.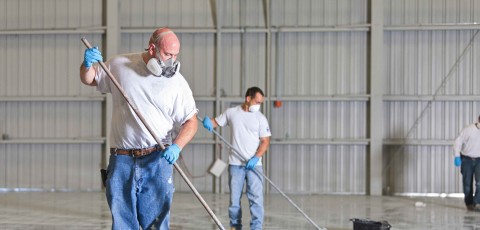 Epoxy Floor Coatings for Industrial Use
Because they are extremely hard-wearing, epoxy floor coatings are the perfect choice for use in an industrial environment, so in even the most demanding of environments your flooring will withstand everything you have to throw at it.
Other benefits of epoxy floors include;
Suitable for factories and workshops
Highly impact-resistant
Chemical-resistant
Easy to maintain and keep clean
Durable enough to last for years to come
Non-slip coatings available for added safety
Working Both Locally & Nationwide
We work both locally in Birmingham and the Midlands, as well as further afield across the UK, and beyond. Wherever your site is located, Shirley Industrial Painters can help.
Why Choose Us?
Access to wide range of products
We have the right equipment to prepare the substrate to accept the floor coating.