Epoxy Flooring in Coventry – Shirley Industrial Painters
When you are looking for a well-established local company to provide epoxy flooring in Coventry, look no further than Shirley Industrial Painters.
Epoxy floor coatings are designed to be extremely durable, which makes them ideal for industrial applications, and we have added these floors to a variety of different sites, including garages, factories and workshops. If you want a hardwearing floor which you can rely on to remain in top condition in even the busiest and most demanding of environments, we can help.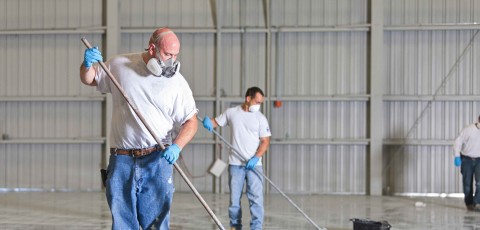 These floors are both impact and chemical-resistant, and are easy to clean too. High impact, abrasion and heavy traffic won't be a problem when you have epoxy flooring in place, and once you have invested in one of these high quality floor coatings, you can rest assured that it will last for years to come.
Enquire About Epoxy Floor Coatings Today
We can also add a non-slip finish to your epoxy floor, which will provide you with an anti-skid surface which is forklift-friendly. Both highly practical and aesthetically pleasing, these floors will make the perfect addition to any industrial workplace.
Contact us today to enquire about the products and services available from Shirley Industrial Painters in Coventry.
Why Choose Us?
Access to wide range of products
We have the right equipment to prepare the substrate to accept the floor coating.