Epoxy Flooring in Northampton
With many years of experience in providing epoxy flooring at a variety of industrial sites across Northampton, Shirley Industrial Painters are well-placed to assist when you require an epoxy floor coating for your own premises.
We recommend that our customers opt for these floors in industrial environments because of their durability and great resistance to both impact and chemical spillages. Whatever your work, you can rest assured that your new floor will withstand all of the demands of your site; lasting for many years to come.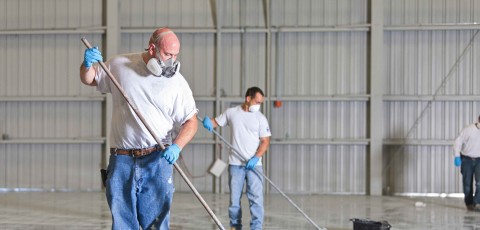 Our floors have been used in garages, factories and workshops across Northampton where a hardwearing floor is a must, and our competitive prices mean that you can receive a high quality finish for an affordable price.
Quality Epoxy Floor Coatings from Shirley Industrial Painters
If forklifts are at work within your premises, an anti-skid floor surface will be required, and we can incorporate a non-slip additive into your floor to keep your site safe.
When you are considering refurbishing the floor at your industrial premises, contact Shirley Industrial Painters first for more information. Call our friendly team to discuss what we can achieve with epoxy flooring, or complete our online enquiry form to get in touch today.
Why Choose Us?
Access to wide range of products
We have the right equipment to prepare the substrate to accept the floor coating.