Epoxy Flooring in Worcester
Here at Shirley Industrial Painters, we're local experts when it comes to providing premium epoxy flooring for sites across Worcester and surrounding areas. We have a vast portfolio of completed projects consisting of work at local garages, factories and workshops where a durable floor is a must.
Epoxy floor coatings are perfect for industrial use thanks to their hard-wearing nature, so, however, demanding the environment, you can rely on your floor to remain tough and durable.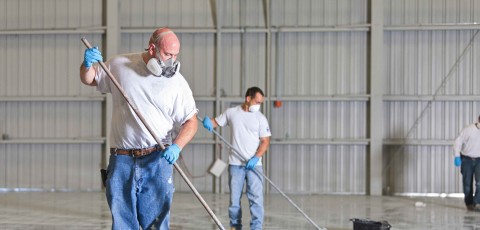 These floors are highly resistant to both heavy impacts and chemicals, and can withstand extensive abrasion whilst still remaining in good condition. What's more, they are easy to clean, so any spills can be quickly taken care of.
Non-Slip Floor Coatings from Shirley Industrial Painters
We can also add a non-slip coating to your floor. If you frequently use forklifts within your premises, this anti-skid option can help to reduce the risk of accidents.
Combine the quality of our flooring with our competitive prices, and it is clear that we offer a truly cost-effective solution for customers looking for epoxy flooring.
When you are planning to update your site in Worcester with the addition of a new floor, contact Shirley Industrial Painters first. Call us today or complete our online enquiry form to get started now.
Why Choose Us?
Access to wide range of products
We have the right equipment to prepare the substrate to accept the floor coating.